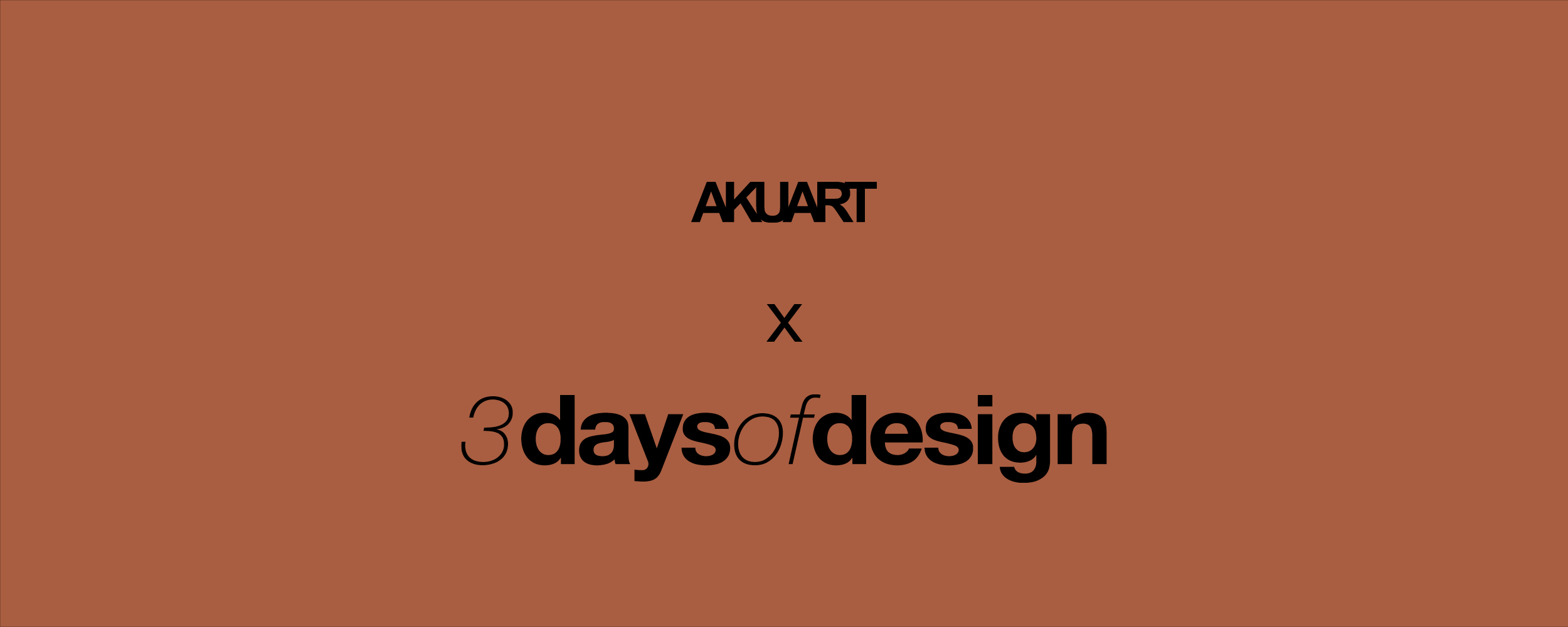 ---
Our Journal
3 Days of Design
Join us for 3 Days of Design and experience our new acoustic collection Supersonic as well as our upcoming innovative acoustic concept In Your Room. Enlighten yourself with some interesting talks and be sure to stick around for Thursday's festive evening event The Party! – where we will be kicking off 3 Days of Design with food, drinks, DJ's and live music.
We hope – We think – We know – You'll love it!
Thursday 16th:
Good Vibrations Talk by Frans Davidsson, Sound Tribe – How to create acoustic design for physical and psychological needs when returning to the workplace.
Frans Davidsson is a civil engineer with an interdisciplinary and communicative approach. Frans has been working internationally for over a decade within the field of Sound and Environmental Psychology. He has been organizing research in cooperation with Stress Research Institute in Stockholm, member of the Activity Based Council in Sweden, IFMA, and Green Building Councils among others.
STACKII, Skudehavnsvej 1, 2150 Nordhavn Thursday Sept. 16th at 14:00
Sustainability Talk by Håkan Nordin, BOLON – How do we improve our work when it comes to important questions such as climate, circularity and plastic.
Håkan Nordin, Head of Sustainability at BOLON, has been working professionally with environmental questions since 1984 and has great insight and knowledge about sustainability and climate questions in companies. Håkan has held roles as campaign manager and board member at Greenpeace Sweden and policy adviser for Greenpeace international, as well as expert roles in various delegations and committees for the Swedish government, and as adviser to several companies and public organisations like H&M and Ikea among others.
STACKII, Skudehavnsvej 1, 2150 Nordhavn Thursday Sept. 16th at 16:00
Meet & Greet with food and drinks 
Meet new and old friends in the beautiful settings of the Kranes rooftop terrace with a drink in your hand.
Continue the evening treating yourself with some tasty burgers from Mundwerk and some refreshing cocktails from CPH Distillery.
Party!
Let your hair out and get your groove on to DJ Kathrine Ring + live music   
The Krane + Stack I & II, Skudehavnsvej 1, 2150 Nordhavn Thursday Sept. 16th at 17:00 – 24:00
Friday 17th:
The psychological impact of colours Talk by Sara Garanty – Why designing with colours should always start with human experience, that priorities wellbeing.
Stylist, interior designer and artist Sara Garanty has been studying and working professionally with colour psychology since 2008. She has a profound understanding and knowledge of how to use colors effectively to elevate architecture and interior designs. She serves as an adviser to several companies and public organizations like Samsung, Philips, Rockfon among others.
STACKII, Skudehavnsvej 1, 2150 Nordhavn Friday Sept. 17th at 13:00